IDEE & PARQUET
Creativity without limits since 1965
Ideas and an inexhaustible source of creativity combined with the ability of people with a passion; people who, for more than half a century, have dedicated themselves to shaping these ideas using the oldest building material of all, wood.
Passion and tenacity that still animate a brand destined to leave its mark on the world of parquet.
Direct control of the main processing phases, combined with a skilful mix of technique, experience and craftsmanship guarantees the enhancement of tailor-made projects that are ever new and challenging.
"Creativity without limits" drives us to make floors in innovative formats, hand-decorated wooden rugs, to experiment with special techniques and colours, but also to propose objects and coverings in various types of reclaimed materials.
"A contemporary vision forever leading us to create customised floor and wall coverings through the selection and use of the best wood materials."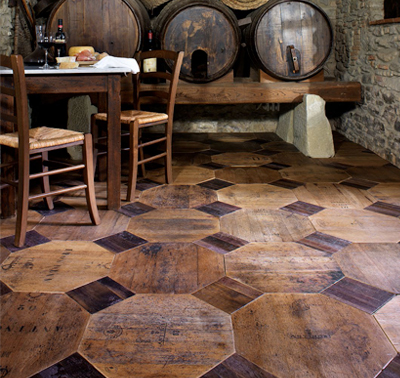 The made-to-measure atelier
When choosing the right wooden floor or wall covering, you can always rely on Idee & Parquet, the ideal partner who is able to guarantee a consultancy service and personalised orders to meet any requirement.
New floors or floors made with reclaimed wood, standard or made-to-measure products, accessories or complements such as stairs, wooden rugs, table tops or wall coverings make up a far-reaching and complete range of solutions.
The ability to interpret the needs of ambitious projects and transform them into unique creations is made possible thanks to the experience and professionalism of a team of selected collaborators and partners who respond to requests dictated by "limitless creativity".
The ability to interpret the needs of ambitious projects and transform them into unique creations
Art and nature are found everywhere in our land, spontaneously present in everything we do.
Tuscany has always been a source of inspiration for artists of all kinds thanks to the beauty and hospitality of its territory, and it has certainly played an important role in the origins of Idee & Parquet. The province of Arezzo, surrounded by woods and incomparable natural landscapes, has been the ideal habitat for the development of the business.
Contact us for more information